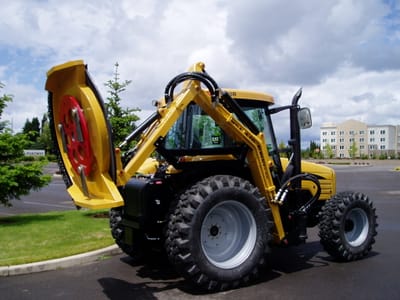 In 1981, a retired metal craftsman and fabricator formed Little Industries to provide quality replaceable parts for mowing and brushcutting equipment. Years of experience in the production of mining and logging equipment enabled him to produce replacement parts which lasted 3 to 5 times longer than the originals. Due to customer demand for cost saving equipment, the company expanded and began producing complete brushcutter systems, which also lasted 3 to 5 times longer than other brushcutters.
In 1995, Little began establishing product support and marketing partnerships with several of the world's leading manufacturer's of tractors. Little recognized that innovation was required to bring about more comprehensive solutions to the governmental mowing industry. For over 30 years, the market had been dominated by products sold as mere attachments to existing tractors. Although initially inexpensive, this resulted in excessive wear and failure of tractors as well as limited life and high maintenance costs for the mowing products.
Little works closely with its partners to ensure all systems and structures perform as a fully integrated system with no compromise in safety, durability, or mowing performance. From the ground up, all components are designed and selected for dedicated full-time use in severe duty roadside mowing applications. Little focuses on using the highest quality materials and workmanship, assuring many years of brushcutting, high in production, but low in operating costs.
Little has continued the innovation and attention to quality since then, and now produces a wide array of Brushcutters, Mowing Heads, Ditcher Heads, Boom Mowers, Shoulder Mowers, and Quick Attach Brushcutters. In 2002, Little entered into marketing relationships with AGCO and Caterpillar. These relationships mean that Little products can be sold and serviced through a network of respected local dealers across the nation.